Air Conditioning Service in Huddersfield
Don't get all hot and bothered this summer, your Air Conditioning could perform better? Little do most people know although your Air Conditioning system is a sealed system it loses up to 10% of its vital gas every year which can drastically affect its performance. But, its not only the summer months your air conditioning performs, it is also useful in the colder months helping reduce moisture build up inside your vehicle making it less likely to have condensation issues. We at Horizon provide various services to help keep your Air Conditioning in tip top condition
Servicing of Air Conditioning systems
• Recovery of remaining gas after crash damage (specifically body shop)
• Re-gassing of fully repaired systems
• Part service
• Full service (including cabin filter and anti- bac vent clean)
• Pressure testing
• Ventilation antibacterial odour clean.
Firstly, our technician will take a look round the system for any obvious signs of leaks followed by a pressure test to check the system is holding pressure. Once we are satisfied there are no major leaks, we can carry on to recovering any gas left in the system and vacuum it to ensure it is completely empty. After this we are ready to re-gas the system back to the manufacturer's guidelines, at this point the gas goes back in and the oil needed to lubricate the system is pumped in too. The process from start to finish should take around 40 minutes to an hour providing there are no issues found whilst connected.
Please note:
We are not Air Conditioning maintenance technicians and as such don't replace any components but, can advise you what issues you may have if we fail to hold pressure in the system. We charge £30 + VAT for the initial callout with pressure test. If we gas the system after, the price for a standard re-gas would be £20 + VAT on top of the initial charge. For larger systems or vehicles with dual Air Conditioning price varies. Full service please ring for a price.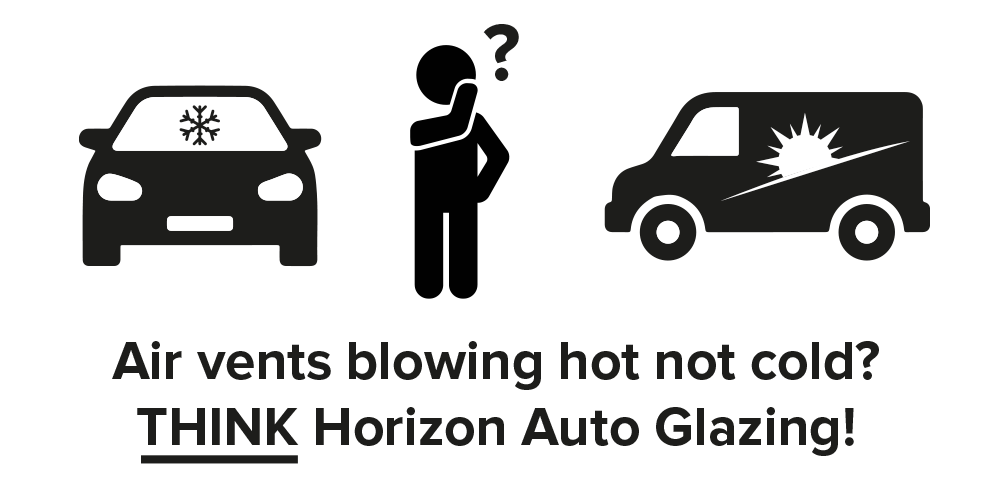 What does a full service involve?
• Observing and pressure testing the system for leaks
• Vacuuming, Oiling and re-gassing if the system holds the correct pressure
• Changing the vehicles cabin filter (if it has one)
• Clean and deodorize the ventilation system
My car smells when I run the air conditioning what can I do?
Although not a complete solution the best course of action would be to change the vehicles cabin filter which hardly ever gets replaced (even when its serviced) that combined with a ventilation system clean to prevent bacteria build up which causes that mouldy smell.c
Why choose Horizon Auto Glazing?
ATA registered technicians
Competative prices
Mobile service to home or office
Same or next day where possible
Majority of glass in stock now
New, quality glass used always!